Back to blog
10 Must-Read Japanese Books Translated Into English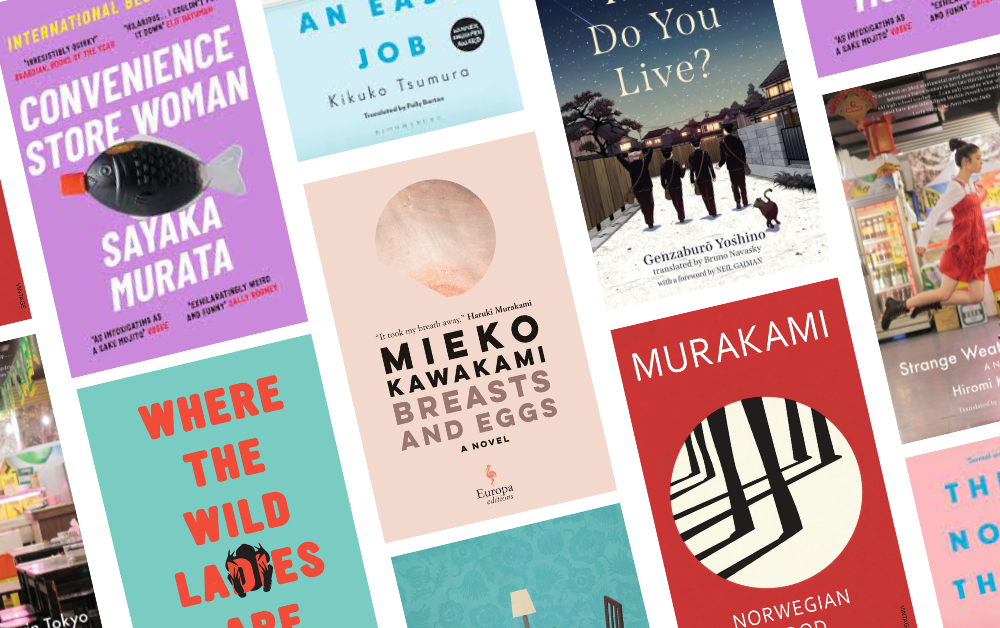 Japan has some of the greatest writers of all time along with some of the most beautiful literary prose. Fortunately, most of these have been translated into English amongst other languages for the world to admire. Here we recommend 10 must-read books by Japanese authors whose work has been translated into English.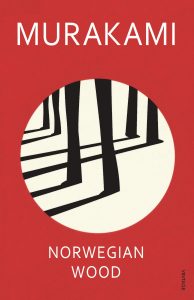 1. "Norwegian Wood" by Haruki Murakami (1987)
Set in the late 1960s in Tokyo, Japan, Toru Watanabe reminisces on his college days including a peculiar roommate, conversations with his smug classmate, and all the ups and downs that come with young adolescence. All the while, he is still processing the devastating death of his beloved best friend. In a desperate attempt to rekindle those memories, he connects with his best friend's ex-girlfriend, Naoko, the only other person who understands what he's going through. But Naoka is troubled within herself…
Norwegian Wood begs to question if two grieving souls can pull each other out of despair. It is a story that remarks on themes of love, loss, and its bewildering complexities. Haruki Murakami's writing casts an ethereal-like veil over the entire novel and it is as if you, yourself, are drifting through the thoughts and memories of Watanabe. An excellent read, truly like no other and we wouldn't expect anything less from Murakami, one of the greatest writers of all time. Murakami is internationally recognized for his art-like prose that is accessible while remaining complex, tackling deep-rooted societal issues, human nature and the emotional turmoil of life. His novels are guaranteed best sellers.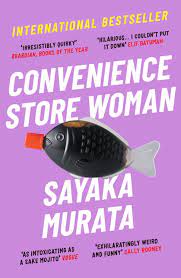 2. "Convenience Store Woman" by Sayaka Murata (2016)
Keiko Furukura, a woman in her 30s who has only ever worked in a convenience store, has never quite fit the expectations society set for her. However, it is at work at "Smile Mart" in Tokyo's Hiromachi that she feels she can "fit in" if she just follows the rules; say irasshaimase, smile at the customers and do the work of a convenience store employee. Until one day she realizes that her family and friend's expectations of what a "functioning member of society" is, is far greater than she had ever imagined. 
In this short novella, we join Keiko on her journey as she desperately tries to figure out what it means to be "normal" in today's society, drawing close attention to gender stereotypes. Sayaka Murata captures the pressures to fit into society in an eccentric and witty read. Murata also perfectly instills the images, sounds and happenings of a convenience store in the imagination, making it an excellent escape for those wanting to revisit Japan.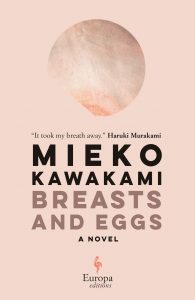 3. "Breast and Eggs" by Mieko Kawakami (2008) 
The debut of the novel, Breast and Eggs, made Mieko Kawakami an overnight sensation and celebrity in Japan. Hailed by international bestseller, Murakami, who left a review that the book "took (his) breath away". Kawakami expertly mixes dry wit with profound thought making for an entertaining yet jarring read. 
The story follows three women as they battle against their own thoughts, morals, and pressures placed upon them by society. It all begins with Natsu, the protagonist, who after witnessing the birth of a child feels a maternal instinct of her own. Approaching her 40s she feels time is against her but an internal conflict persists as she questions if it's right for her to have children if she does not conform to societal norms as an asexual. Meanwhile, her elder sister Makiko flocks to Tokyo in search of an affordable breast enhancement procedure along with her 12-year-old daughter whose diary entries interweave throughout Natsu's narration. Makiko, who works in a hostess bar in Osaka, desires "younger breasts" to compete amongst her colleagues. Her daughter, on the other hand, has just started learning about sex education in school and as she learns about ova, the female egg, ponders on the question of "how is it possible I knew about sperm first?" 
Kawakami went on to win the 138th Akutagawa Prize for promising new writers for her work on Breasts and Eggs. Her background first as a hostess and then as a singer has allowed her to view situations from a variety of angles and her books address the issues faced by society in modern-day Japan. It is for these reasons that she is widely admired as a feminist novelist across the country with many speaking out about the realism in her work. In Kawakami's own words, she says she just wanted to write about "real people".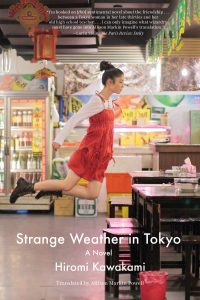 4. "Strange Weather in Tokyo" by Hiromi Kawakami (2001)
Shortlisted for the Man Asian Literary Prize, Strange Weather in Tokyo by Hiromi Kawakami, known for her "off-beat" fiction, is an amusing yet heartwarming read.
Tsukiko is drinking alone at her local izakaya one night when a man with familiar features recognizes her. Despite it being more than 20 years since she left school, her teacher still remembers her face and her name. She, on the other hand, struggles to remember his name and instinctively falls back into an old habit of calling him "Sensei". Sensei and Tsukiko begin to meet regularly at their local izakaya, sharing stories, drinking cold beers and taking trips to the mountains to eat wild mushrooms but as their friendship deepens, Tsukiko begins to realize that she might have found something more than just a friend.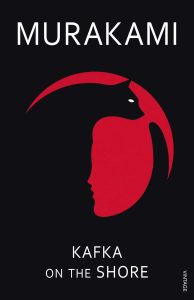 5. "Kafka on the Shore" by Haruki Murakami (2002)
Another one of Haruki Murakami's novels that we could not leave off the list is Kafta on the Shore, a great coming-of-age story that, as referred to by the New Yorker, is "an insistently metaphorical mind-binder".
Kafka on the Shore follows two extraordinary characters, Kafta Tamura, a teenage boy who runs from home in an attempt to escape a gruesome, oedipal prophecy or to look for his mother and sister; and Nakata, who is still troubled by wartime affliction and for reasons unbeknownst to Kafta, their destinies are intertwined. On their bizarre adventure, it seems anything is possible and nothing predictable, with cats that can hold a conversation, fish that rain down from the sky and spirits that slip out of bodies to commit crime or for leisure. Murakami keeps his readers on their toes and you never quite know what's coming next. As the story progresses we come closer and closer to discovering why destiny has entwined the paths of both Kafka and Nakata. A must for all those that love literature.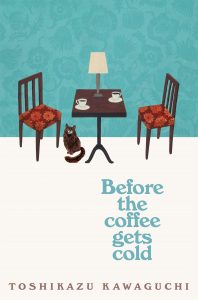 6. "Before the Coffee Gets Cold" by Toshikazu Kawaguchi (2015)
"'Are you listening?' Kazu continued. 'When you return to the past, you must drink the entire cup, before the coffee gets cold.'"
In the backstreets of Tokyo, tucked away in a basement, you'll find a quaint cafe that serves one particularly special brew. One hundred years in business, this shop offers customers a rumored experience, the chance to travel back in time. 
In Before the Coffee Gets Cold we meet four characters on their journeys, all with the same hope to use the cafe's time-traveling service and each with a unique objective, to confront an ex-lover, to receive a letter from her husband whose memory is fading, to meet their sister for the last time and to speak with a daughter she never had the chance to know. The process for time travel is simple but does not come without its risks, customers must sit in a particular seat, they cannot leave and they must drink all the coffee before it gets cold. Perhaps easy enough but make a mistake and the consequences are dire.
Toshikazu Kawaguchi explores the age-old question of what would you do if you could travel back in time? Would you meet someone maybe for the last time? This moving tale will stick with you long after you've turned the last page. 'Before the Coffee Gets Cold' is another book you must add to your list.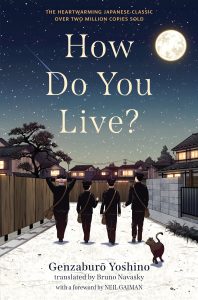 7. "How Do You Live?" By Genzaburo Yoshino (1937)
Another coming-of-age tale that revolves around a teenage boy and his musings on Science, friendship and bravery. Copper, a 15-year-old boy struggles to comprehend the enormous change in his life after the death of his father and then the betrayal of his best friend. But in between episodes of Copper's story, his uncle writes to him offering knowledge and profound advice on life's big questions. Copper further turns to the sky and uses his newly acquired knowledge of the heavens, earth and human nature to beg the question "How do you live?" A thought-provoking read, wise beyond its years.   
This book was first written in 1937 but didn't become a best-seller until it was announced by Hayao Miyazaki that it was one of his favorite childhood novels along with the news that he would be coming out of retirement to create its animation by hand. In fact, it has to be noted that the book was banned for a period of time in 1942 by Japan's Special Higher Police Force who condemned the book for its criticism of capitalism and a particular character's ardent school spirit. It wasn't until Miyazaki's announcement, that this book was brought back into the public eye and into current literature once more.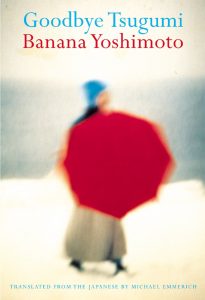 8. "Goodbye Tsugumi" by Banana Yoshimoto (1989)
Goodbye Tsugumi is Banana Yoshimoto's portrayal of a feisty young woman in 80s Japan. Yoshimoto is most famous for her novel "Kitchen" and for her ability to write feisty yet vulnerable heroines, which we also see here in Goodbye Tsugumi. The story begins with a college student, Maria, who has just moved to Tokyo to live with her single mother. Maria has spent most of her life living in a seaside inn owned by her cousin Tsugumi's parents. When Tsugumi's parents decide to move to a mountain inn, Tusgumi invites Maria for one last summer by the idyllic seaside. Tsugumi who has always struggled with her health, a slight excursion being enough to make her bedridden, is characterized by a sharp tongue and quick wit. In these chronicles of summer, love, and friendship, Maria begins to understand her cousin like never before and comes to the slow realization that they cannot return to their fond childhood memories.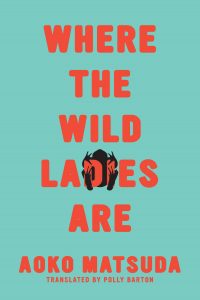 9. "Where the Wild Ladies Are" By Matsuda Aoko (2016)
Mr. Tei owns a peculiar company and by peculiar I mean he'll recruit you dead or alive, preferably dead though. From a busybody aunt who disapproves of hair removal, to a lover that visits to take a bath every night and to a babysitter that'll take care of the house while the mother works. Jealousy, stubbornness and feminine talents are not to be suppressed, moreover, Mr. Tei sees them as excellent qualities in a worker at his company and seeks out such talent.
Where the Wild Ladies Are is interwoven with traditional Japanese folk tales and ghost stories that are reinvented and instead of fearing the women in the old stories they become role models, sources of inspiration and counselors for modern-day women bound by the pressures of society. One ghost's advice to her niece is "I want you to fight like Kiyohime did", a reference to a Japanese ghost story. Author Aoko has turned these tales, with their once-feared female leads, around into a witty and intellectually stimulating read.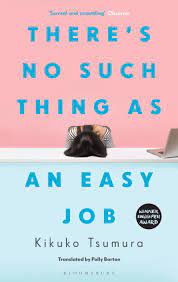 10. "There's No Such Thing As An Easy Job" By Kikuko Tsumura (2016)
Our unnamed 36-year-old protagonist has had enough of her 10-year high-stress job and walks out looking for temporary work or anything that basically won't give her a nervous breakdown. She walks into an unemployment office and asks for work that requires no reading, no writing, and ideally very little thinking. Thus begins her series of works from the mundane to the absurd. She questions how she is supposed to stay awake whilst watching security cameras all day. How will she schedule the delivery of her favorite tea if she has to be at work? And how ever did she find herself in this situation in the first place? 
There's No Such Thing As An Easy Job is Tsumura's first novel to be translated into English and couldn't be more suited to current times with an increasing number of people speaking out about burnout culture and overwork. 
Conclusion
Did we miss any of your favorites? We hope you like our top 10 picks for Japanese books translated into English. Reading a book in English and getting a Japanese copy, it can be a challenging yet very rewarding way to study. 
---
Interested in learning more about Japanese culture? Get in touch to hear about our courses!