Back to blog
10 Volunteering Opportunities in Japan: How to Get Involved and Learn in a Meaningful Way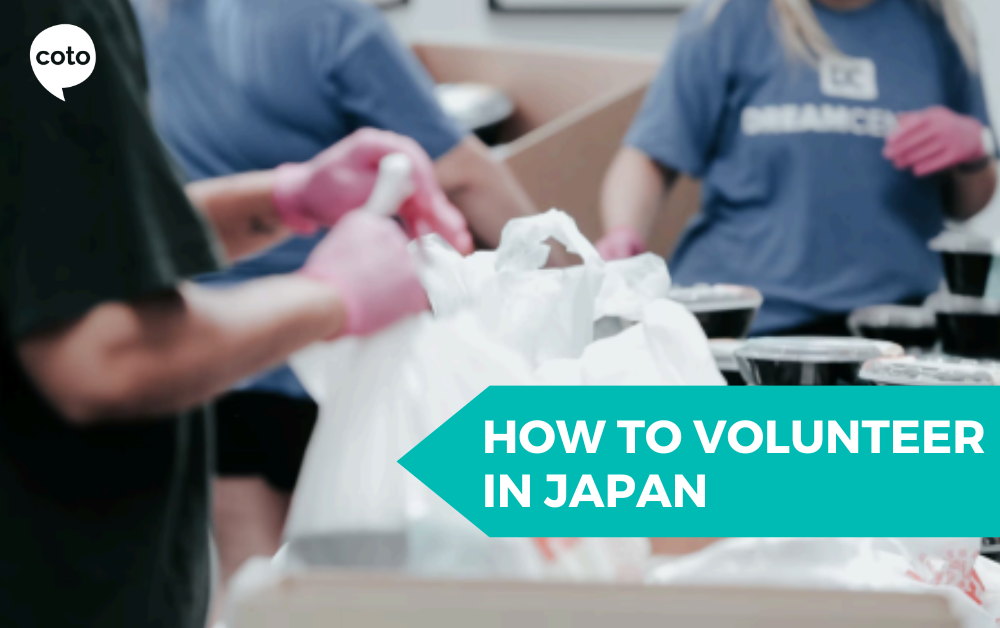 Volunteering in Japan can be an incredible way to learn more about Japanese culture and the language. The country is home to a  wide range of programs that support communities in need, protect the environment, and promote social justice. 
Generally, volunteering in rural areas and small towns in Japan is less official. For example, after a heavy snowstorm, you can find your neighborhood shoveling snow together to clear out the street. In bigger cities like Tokyo and Osaka, you can find volunteer centers. The country has a high demand for volunteers who can teach English, translate documents, take care of the elderly, or do agricultural work on farms. Other areas where you could volunteer include nature preservation, animal support, and homeless assistance. 
In this guide, we will explore some of the main volunteering programs and how you can get involved in them. 
The Japan International Volunteer Center 
The Japan International Volunteer Center (JVC) is one of the country's largest volunteering organizations, offering a wide range of programs in community development, human rights, and poverty alleviation across the world. Currently, JVC is running programs in countries such as Afghanistan, Iraq, Palestine, South Africa, and Cambodia, among others. 
In Japan, JVC runs different educational events and lectures to spread information about world situations that are not covered much by the media, in schools, high schools, and universities. According to the organization, these events aim to "deliver the voices of local  people and teach students how to be involved in international cooperation while in Japan." 
To develop these activities, the organization is actively seeking volunteers to be based in the Tokyo office. Activities will involve dispatching JVC calendars and translating Japanese articles to English for the JVC webpage, among other various office jobs. The organization is open to volunteers from around the world, and you can find more information about them on their webpage.
Tokyo Voluntary Action Center 
This center can be a good starting point for people looking for volunteering opportunities in  Tokyo. The center collaborates with the government and several non-profit organizations in areas such as social welfare, health, environment, education, disaster relief, arts, and culture, among others. 
The center recommends volunteers can understand Japanese to participate, as most organizations do not have members who can speak English or other languages. However, if you are fluent in Japanese, there are plenty of opportunities at this center for you to get involved with. Check their website for more information. 
Second Harvest Japan 
Second Harvest Japan (2HJ) is Japan's first nationwide food bank. Created in 2000, the organization receives surplus food donated by individuals, retailers, farmers, and other manufacturers, and redistributes it to people in need. 2HJ works with welfare agencies, 
orphanages, women's shelters, and organizations supporting the homeless. With the slogan "Food for all people," the organization has received the support of several private companies and thousands of volunteers. Individuals can support this organization by donating money, food, or their time through volunteering. 
According to 2HJ's official website, volunteering is open to anyone above the age of 12  years old, with shifts taking about 2.5 hours each. The organization states that "a variety of  people from various jobs, ages, and nationalities come to support our organization  weekly." Japanese language skills are not required to volunteer with 2HJ. 
Among the active programs, there are food delivery services to welfare facilities and organizations, pantry packaging, pantry pick up, food pick up services, and others. To join,  you need to fill out a volunteer registration form from this link. 
HandsOn Tokyo 
Founded in 2006, HandsOn Tokyo is a non-profit organization that works on a variety of charitable and social issues with foreign residents and local Japanese. According to the  organization, HandsOn Tokyo's mission is to "provide meaningful bilingual volunteer  opportunities to foster volunteerism and develop leaders to serve the needs of our  community." 
They support children and youth in need, nursing homes, people with special needs, and other environmental programs. With activities such as blind tennis, blind jogging, motor development programs, tango therapy, and others, you can help others while having fun in the process. 
HandsOn Tokyo's website lists several volunteering opportunities that are open to everyone. To sign up, you only need to register as a volunteer on the website and look for the program that matches your personality and skills better. The opportunities are varied. 
Refugees International Japan 
Founded in 1979, Refugees International Japan (RIJ) is an independent non-profit organization that funds projects for people displaced by conflict around the world. The  organization's goal is to "support projects that provide opportunities for people to lead an  independent normal life while staying near to home and their loved ones; projects that  enable people to give back to the community and make valuable contributions to the local  economy as well as rebuilding their future."
RIJ currently has openings for internships and volunteering roles. In particular, they are looking for volunteers with specific skills such as fundraising, graphic design, marketing,  and event organization. The time required for these roles varies from four to 15 hours per week, according to RIJ. To join these programs, you need to visit the organization's website and submit your information. 
Shibuya Volunteer Center 
The Shibuya Volunteer Center acts as a mediator between people who want to do volunteer activities and those who need help. The center organizes activities in a variety of fields, such as educational activities, assistance for people with disabilities, festival organization, and more. 
Although the center's website is entirely in Japanese, you can use translation software to learn more about it and attend one of the center's volunteer recruitment events. Some knowledge of Japanese could be necessary to join their activities, but even if your  Japanese is not that strong, attending one of these volunteering activities can be a great way to work with locals and practice your language. Let us know how it goes. 
For Empowering Women (FEW) 
For Empowering Women (FEW) is an active English-speaking network that supports women's personal and professional growth in Tokyo. FEW organizes educational activities and other career upskilling events. Volunteering opportunities are available for different roles. To learn more, visit the website here. 
Mirai no Mori 
Mirai no Mori is a not-for-profit organization that provides outdoor programs for abused,  neglected, and orphaned youths in Japan. The organization aims to support youths' growth  into "happy and successful young adults." 
The "Essential Life Skills" program run by Mirai no Mori intends to develop life skills such as critical thinking, problem-solving, teamwork, communication, and other abilities to help youngsters succeed in life and have a prosperous future. 
The organization is currently seeking volunteers in areas such as fundraising organizing,  social media management, summer camp volunteers, translation, and other services. You can visit the organization's webpage for more information and volunteer registration.
Tokyo River Friends 
Founded in 2017, Tokyo River Friends focuses on regular monthly cleanups for the Tokyo area rivers. The organization actively looks for volunteers to help in cleanup activities around Tokyo and in the bay waterfronts. 
While some intense work might be required during the cleanups, the organization also promotes social events such as picnics and barbecues next to the river following the cleanups, which can be a great way to make new friends and also improve your Japanese. To participate, contact the organization through their webpage here. 
TELL Japan 
Founded in 1973, Tokyo English Lifeline (TELL) is a not-for-profit organization dedicated to providing effective support, and counseling services to Japan's international community. TELL also seeks to address the country's growing mental health care needs. 
The organization offers free, anonymous, and confidential lifeline support via phone and chat, professional face-to-face counseling, and other extensive outreach programs. 
The organization accepts volunteers to participate in functions such as telephone lifeline support, events, and office-related work. Interested individuals can apply to become volunteers at TELL.
Why You Should Volunteer in Japan
Joining a volunteering program in Japan can give you a great opportunity to practice  Japanese and learn more about Japanese culture. Volunteering can also help you forge strong connections with individuals outside of your network of friends, family, and work colleagues. These connections could become essential during your time in Japan. 
Joining a volunteering group also makes you feel more integrated into the community. It helps you develop your talents and learn new skills while creating a better work-life balance. 
With so many volunteering options available, getting involved with a cause that is close to your heart can bring many benefits to you and other people in need. Doing it in Japan can also be an unforgettable experience. The organizations mentioned in this article are just a few, but you can also check with your local government or local community to find other opportunities if the ones mentioned above don't match your needs. 
If you want to learn Japanese with a professional instructor in a comfortable environment, contact Coto Club to get started!
---
Interested in learning more about Japanese culture? Get in touch to hear about our courses!