Back to blog
Art Exhibitions you need to go to in Roppongi 2021 Fall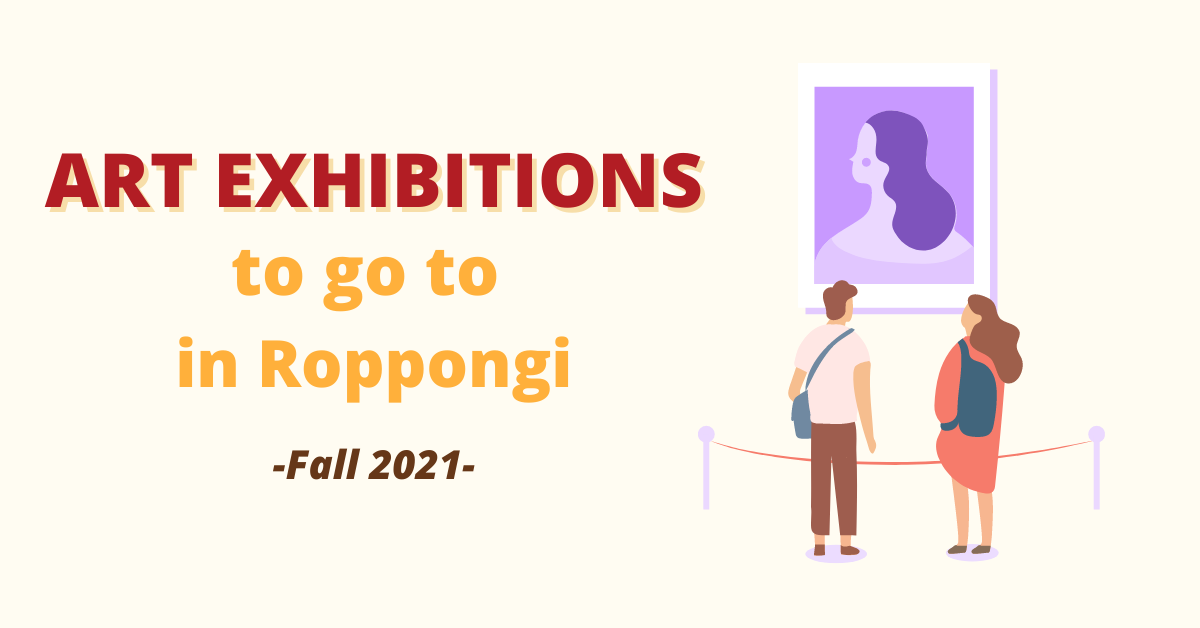 Do you enjoy spending time at art museums, appreciating the artist or the culture? Roppongi is a locations famous for its fine dining, tourist locations and last but not least, for their art museums as well. Roppongi has two well know museums: Mori Art Museum and The National Art Center Tokyo.
In this article we introduce limited art museums and exhibitions hosted by Mori Art Museum you have to see right now, before the exhibiton period ends, as well as useful Japanese phrases you can use and may encounter at the museum from today!
1. Kaws Tokyo First
If you love pop culture, it is not an understatement to say that this is one of the long awaited event of the year. Introducing the first large-scale exhibition of KAWS in Japan, features about 150 artworks including paintings to sculptures to products. It demonstrates KAWS' unique perspective on art, showcasing artworks such as paintings and scultptures from early production to its latest work today.
Be sure to check out the KAWS:PLAYTIME if you are visiting with children. This is an interactive section for children which offers two choices of "Make a Friend for BFF" and "BFF and Friends". Children can either choose to draw a picture using the touch screen, or take a video where BFF's face or hands integrates with the children's on the screen.
Whether it's for your own interest in KAWS, or for instagram, or wanting to find out what the hype is all about for KAWS, this exhibition welcomes all types of audiences.
Feel free to watch the video below, which introduces the KAWS Tokyo First Exhibition
Exhibition Details
2021.7.16 [Fri] – 10.11 [Mon]
10:00-20:00 (Last Admission: 19:30)
Venue: Mori Arts Center Gallery (52F, Roppongi Hills Mori Tower)
2. Another Energy: Power to Continue Challenging – 16 Women Artists from around the World
This exhibition is a collection of 16 female artists' artworks, where the artists are all in their 70s or older from geographical locations all around the world, with diverse backgrounds. What unites all the female artists is thought to be the energy that continues to drive them to pursue their dreams and styles regardless of environment and times.

This exhibition showcases a wide variety of artworks from paintings to video to performances and many more, totaling up to 130 works.

If you are up for a challenge, this exhibition is one that requires some analysis of the artworks to understand the main theme. Nevertheless, it is still enjoyable as it is, by simply enjoying the diverse artwork mediums and background of the female artists and its influence on their artworks.
Exhibition Details
2021.4.22 (Thu) – 9.26 (Sun)
10:00-20:00 (Last Admission: 19:30)
Venue: Mori Art Museum (53F, Roppongi Hills Mori Tower)
3. 60TH ANNIVERSARY SANRIO EXHIBITION THE BEGINNING OF KAWAII
This exhibition features the history of Sanrio, appreciating the 60 years of its history, reflecting on what Sanrio has brought to the society globally. It looks at the "Kawaii" culture Sanrio has created and how Sanrio has utilized that aspect to its own, recreating their own concept of what "Kawaii" is.

In this exhibition you can see the evolution of Sanrio's designs, collaborations with Japanese artists, to the world renowned Lady Gaga, to the process of recreating Hello Kitty's dress, and many more.

If you are a fan of Sanrio characters, or are attracted to Japanese Kawaii culture, this is the exhibition for you to learn more about the history of the characters and understand more on Kawaii culture.

At the end of the exhibition, don't forget to check out the "Museum Café & Restaurant THE SUN & THE MOON" for their collaboration with Sanrio Exhibition for cute menus.
Exhibition Details
2021.9.17 [Fri] – 2022.1.10 [Mon]
10:00-22:00 (Last Admission: 21:30)
Venue: Tokyo City View
Useful phrases to know at an Art Museum
大人のチケット1枚お願いします。
otona no chiketto ichimai onegaishimasu
Could I please get an adult admission ticket?
写真を撮ってもいいですか?
shashin wo totte mo ī desuka?
May I take a picture?
写真を撮る時にはフラッシュを控えてください。
shashin wo toru toki ni wa furashu wo hikaete kudasai.
Please refrain from using flash when taking pictures
展示を触らないでください。
tenji wo sawaranai de kudasai
Please refrain from touching the exhibits
飲食を控えてください。
inshoku wo hikaete kudasai
Please refrain from eating and drinking in the museum.
トイレはどこにありますか。
toire wa dokoni arimasuka
Where is the toilet?