Back to blog
Let's move deeper into realm of "Natural Japanese!"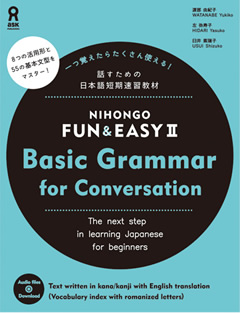 New Classes Start in February. Now accepting!
BEGINNER (JLPT N5-N4)
Active Basic Japanese Grammar
– Suitable for JLPT N5-N4 level students who want to improve conversation skills
– Perfect for studying how to use verbs by learning conjugation
– Each session stands alone. You can jump in when it is convenient for you!
You will learn expressions using; Dictionary Form, Masu-form, Te-form, Ta-form, Nai-form, Plain-form etc
Class1: Tuesdays 11:10 –13:00  New! Starts on February 4th
Class2: Wednesday 13:10 –15:00  New! Starts on February 5th
Class3: Tuesdays 19:10 –21:00
Material : Nihongo Fun & Easy 2
Interested in our courses?
Get in touch and let us know how we can help you achieve your study goals. We'll invite you over for a tour of the school and a free level check. Contact us at info@cotoclub.com or inquire here.