Back to blog
Student Story – Natalia – Learning Japanese Language and Culture while traveling solo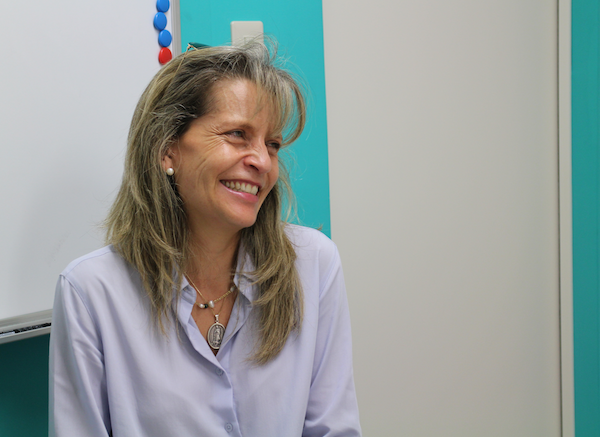 Natalia is a business owner from Columbia that spent 3 months in Japan traveling and learning Japanese with Coto Japanese Club.
On her last day in Japan we asked her about her experience studying Japanese at Coto
What brought you to japan / why are you studying japanese?
I have been doing business with Japanese companies for over 25 years.  I come from Columbia and I sell carnations (flowers) – and the Japanese have been wonderful clients over the years. 
In 2012 I came to Japan for the first time as part of a flower exhibition.  Being hosted by the Japanese client – it was a unique experience and it peaked my curiosity about learning more about Japan.
Since that first visit I had always wanted to stay longer other than just short business trips, so this year I decided to come for three months and do a deep immersion trip – in order to learn the language and also enjoy traveling.
So I left my kids, I left my husband, I left my job, and started this wonderful adventure which will ends tomorrow basically. (Sad face)

When did you decide to start studying japanese?
After my first trip to Japan I came home and I decided to find a Japanese teacher because that first visit I really was interested in learning more about the culture and the country.
After about 6 months – I found a Japanese girl who had been living in Columbia over 8 years and was running a small Japanese academy. 
I took classes with her on and off for about 3 years whenever my work and family schedule permitted – not seriously studying but just being happy to spend time with her and learn more about the culture and the country. 
So after that – I started thinking well this is not enough. Just meeting once in awhile – it's not going to get my Japanese to the level that I want to have it.
I don't intend to be fluent because its too complicated for me – you need to really dedicate a large amount of time studying kanji and the different writing systems – so I said to myself – I just want to do the best the best effort that I can.
How did you hear about coto japanese club? When did you decide to start studying at coto japanese club?
So after my 7th trip to Japan – I thought okay its time to seriously learn it now.  So I started looking for schools and a friend of mine who is from Columbia (married to a Japanese guy) told me about Coto.  
She said Coto was really nice because it was geared toward teaching foreigners how to have conversations.  My goal for learning Japanese was to be able to speak to my clients and have myself understood.  I don't need to learn perfect grammar but I want to be able to get my point across. I want to be able to get around and understand the basics in the country and Coto was able to give me that. So I thought Coto would be a good fit.
Did you look at any other schools when you were deciding on which school to choose?
I did – and most of the other schools I saw were focused on grammar and reading – which was different from my goal of being able to speak. 
Coto is so great – the teachers are friendly and the people that you study with are friendly. Which makes it very different from other schools. So many other schools are geared towards preparing for university entrance exams or finding employment in the country – and at most of those schools they focus only on grammar and reading with large class sizes – there is almost no speaking practice.
At Coto all of the students are learning for fun and to improve their lives in Japan and that really convinced me that it was the right place for me.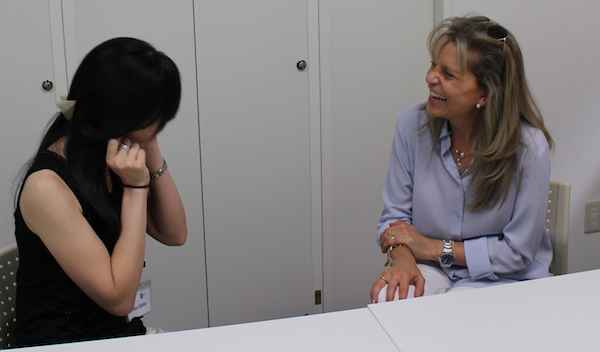 how was the course material and the class style
We just finished the Nihongo Fun & Easy I textbook –  and all of the course materials were really easy to use.  Everything is written in Romaji and the topics and phrases that you learn are practical and can be used outside of the classroom in every day situations.
The materials are really great.  As far as how the class is conducted – there is a lot of speaking and repetition which I really enjoy because over time it gets into your head and speaking comes very naturally. The opportunities for speaking practice make me more confident and comfortable with my pronunciation.
The teachers are just very friendly and very relaxed – and that's something very nice because it fits with the reason why you're coming to Coto.  You're not coming to Coto to stress yourself out over a very specialized course.  You are coming to have fun and to enjoy learning at your own pace.  
It makes you want to come to class – it gives you something to look forward to – when you wake up you think – "I wonder what will I learn today?" And then after you learn it you're excited to go try it out. Overall it was really great!
what can you do in your daily japanese life?
I can order food – introduce myself – have a "small talk" conversation with local people – take a taxi – go to different places and ask for suggestions – go to a store and buy things – and get around generally anywhere.
How has learning Japanese changed your time in Japan?
I speak English, Spanish, french, and I thought that it would help me here – but it didn't actually make much of a difference.  You really do need some Japanese to enjoy life in Japan.  If you go to the US for example – even if you don't speak english – people look like you – they culturally do a lot of the same things as you in public and it just feels much more similar and there's less pressure.
Here, having the ability to have those small conversations and ask those questions really helps to improve the quality of your life.  The few words that you can speak makes a big difference and gives you a big sense of comfort.
How has studying at Coto and in a group class changed your time in japan versus studying with a private teacher in another type of school?
Studying with a group in a school like Coto made all the difference in the world. You can learn a lot from your peers / repetition – when you listen to others mistakes you can learn from their mistakes just like you can learn from own mistakes – but from a different angle. So having a group class really helped my learning.
And the community aspect of having other likeminded people with you learning the same things for the same purpose is so much fun.  You can go out to lunch together and explore the city together and do things together – which empowers you to go try your Japanese in the real world much more so than if you were just by yourself.
So it really gives you an opportunity to build a community for yourself while you are here – that allows you to feel more comfortable and its just a lot more fun with others.  Especially me – I'm all by myself during this trip – I left my family and husband at home, so for me having a community to enjoy life while I'm here was just so great and I am very thankful for the time I spent here.
I will definitely try to come back and study with Coto again!