Back to blog
Summer 5% Discount Campaign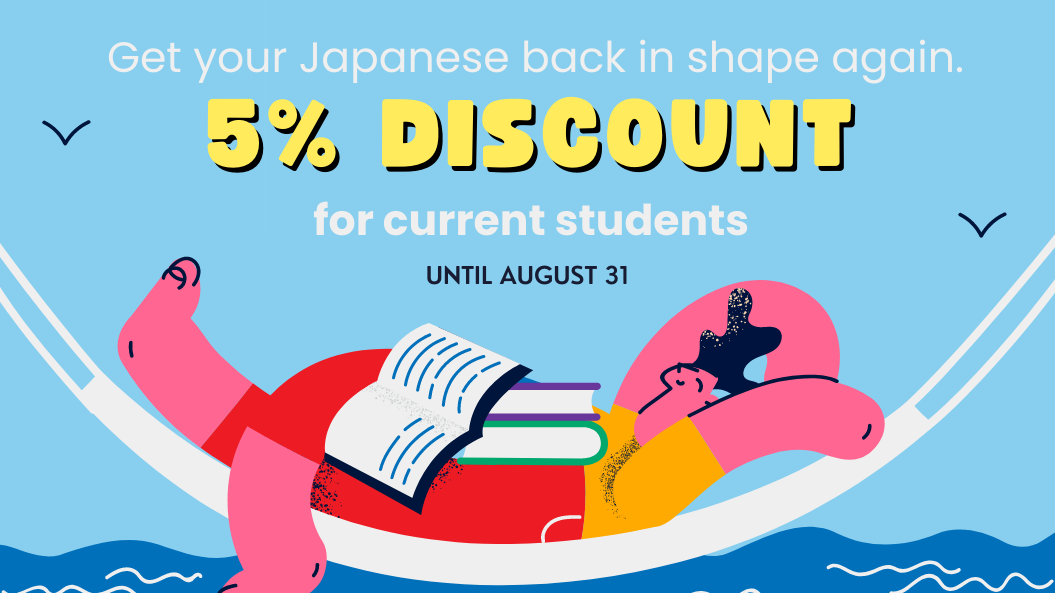 Get your Japanese back in shape again — with Coto Club's sweet thank-you treat.
Studying Japanese takes consistency, and it's all about the long run. No quick sprints. So if you're a current Coto student, continue studying with us by purchasing lesson packages with an exclusive 5%* discount.
Purchase lesson packages of 32 or 48 lessons to save up, aim big and launch your learning journey back in orbit.
Enter the discount code below before the final checkout
Enter this discount code "cc2022s" and you'll get 5% off the package price when you purchase course packages from our website.
32 lessons 166,400 JPY ⇒ 158,080 JPY (4,940 JPY/lesson)
48 lessons 240,000 JPY ⇒ 228,000 JPY (4,750 JPY/lesson)
How to Use Coto Club's Discount Code:
Head to Coto Club's course page here.
Add the package purchase you wish to purchase to your cart, then proceed to checkout.
On the checkout page, please enter your discount code "cc2022s" before completing the payment.
Please make sure to complete your payment by August 31 to secure your purchase
It is not possible to add the discount code after your order has been placed, so please be careful. If you wish to apply the discount code after payment is completed, the discount can be applied for an additional fee of 3,000 JPY.
Terms and Conditions
Payment should be made through the following website and must be for 32 or more lessons.
This campaign is available until August 31, 2022.
A package is valid for 12 months from the first lesson.
Discount code cannot be applied for any material fees.