Back to blog
13 Things to Do in Tokyo This Christmas 2021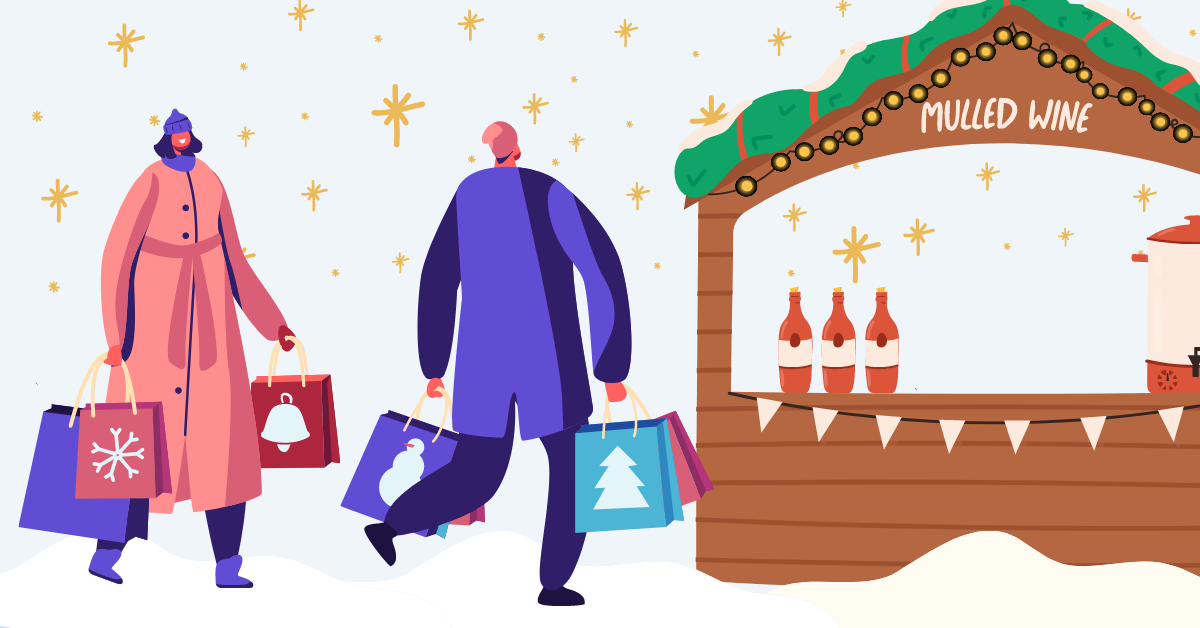 What are the toastiest things to do in Tokyo this Christmas? The days might be getting shorter and colder, but hit the streets to enjoy winter illuminations and a fun lineup of events that are sure to warm you up. Sip your hot wine while window shopping at Tokyo Midtown, or take a peek at Marunouchi's Harry Potter-themed Christmas tree.
Please keep in mind that due to the ongoing situation with COVID-19, events are subject to change. Kindly stay informed with the latest updates on the original websites. 

Do Some (Totally Justifiable) Christmas Shopping
Christmas is the perfect season (and excuse) to do a shopping spree. Opt away from the generic gift cards, mugs and chocolates for more unique gift ideas. The easiest route is to go the Tokyu Hands, but there's more to explore in the city. You can also find vintage interior items and books at Meguro and Jimbocho. Geographica sells cool British antiques, and COLT offers some great interior items. 
Tokyo Midtown
Head to Tokyo Midtown for a foolproof Christmas holiday shopping agenda. Nearing the festive season, you'll find the Roppongi district especially jammed with people venturing in and out of their 130 stores. Hop to the shopping hub's popular Christmas market for Christmas products like seasonal sweets, holiday-themed ornaments, tableware and other gift items. 
Where: Tokyo Midtown 9-7-1 Akasaka, Minato-ku
Ginza Six
If you're looking to splurge more, Ginza Six is the place to be. The shopping complex is home to luxury brand stores. Once you're done, go up to the Ginza Six Garden. It's a spacious rooftop garden covering 4,000 square meters.
Where: 6-10-1 Ginza, Chuo-ku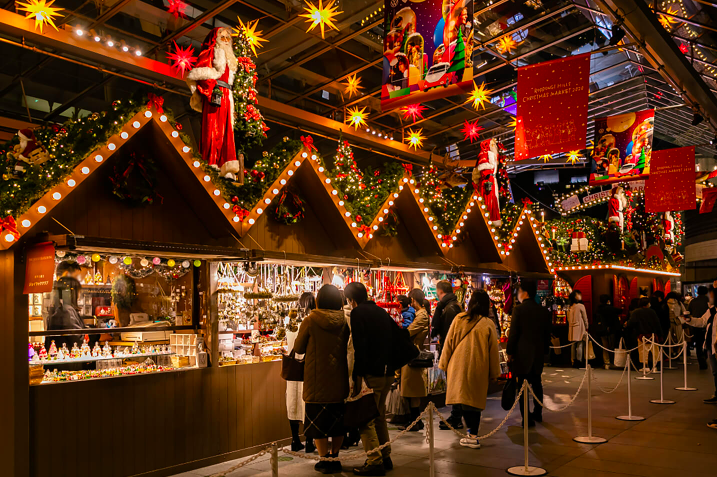 Visit a Christmas Market in Tokyo
Aside from their own Christmas traditions, such as eating Kentucky Fried Chicken, visiting a European-inspired Christmas market in Tokyo is another way to round up the perfect holiday. All the typical grubs and drinks are there, like hot mulled wine, cinnamon sugar-coated churros, schnitzel, sausages and a glass of weissbier. 
Tokyo Christmas Market
True to its name, Tokyo Christmas Market is not to be missed out on. Held annually since 2015, it is currently the largest Christmas market in Tokyo with a huge variety of stalls.  Backed up by the German Tourism Association and German Embassy, it is highly influenced by the European way of Christmas celebrations.
Aside from the many European-style decorations and festival treats one is bound to find there, Tokyo Christmas Market also features a 14 meters tall Christmas pyramid originating from Germany. Live musical performances can also be found on the site, adding to the festive atmosphere. Of course, when shopping at such a place, you will definitely be spoiled for choice with many stalls offering decorations and gifts. It is the perfect place to do some Christmas shopping and soak up the holiday spirit. The admission fee costs 1,000 yen per person and comes with a complimentary novelty mug.
Where: Hibiya Park 1, Hibiyakoen, Chiyoda-ku
Roppongi Hills Christmas Market
Dating back to 2006, Roppongi Hills Christmas Market is the oldest one in Tokyo. Representing the Christmas market in Stuttgart, Germany, it carries the German tradition and boasts a huge wooden pyramid display with dolls and animals rotating on it. There is no place better than to shop here in this shopping complex that even offers a Christmas tree shop, located on the first floor. It is your one-stop-shop for all your Christmas shopping needs with the market offering wreaths, ornaments, and any other decorations you could possibly need.
Behind Roppongi Hills is a 400-meter stretch known as Keyakizaka Street, famous for its illumination that lights up from November 10 starting from 5 pm onwards. Admission to both locations is free. Be sure to check out the breathtaking sight and enjoy the festivals by taking a stroll after your Christmas shopping for an unforgettable experience.
Where: O-Yane Plaza, Roppongi Hills, 6-10-1 Roppongi, Minato-ku
Yokohama Red Brick House Christmas Market
Another vastly popular Christmas Market in Japan, the Yokohama Red Brick House Christmas Market has been around since 2009. A traditional German-style market, it brings you straight to Europe with the ten-meter Christmas tree and decorative ornaments. It is recommended to visit after 4 pm so as to watch the whole place light up and feel the magic of Christmas time. Some dates require an entrance fee of 300 yen, so do make sure to check beforehand and make your relevant reservations. It is also conveniently located right beside an ice rink, perfect for those who want to engage in fun activities.
Where: Yokohama Red Brick Warehouse, 1-1 Shinko, Naka-ku
Want to know the full list of our favorite Christmas markets this year? Check our guide to the merriest Christmas markets in Tokyo!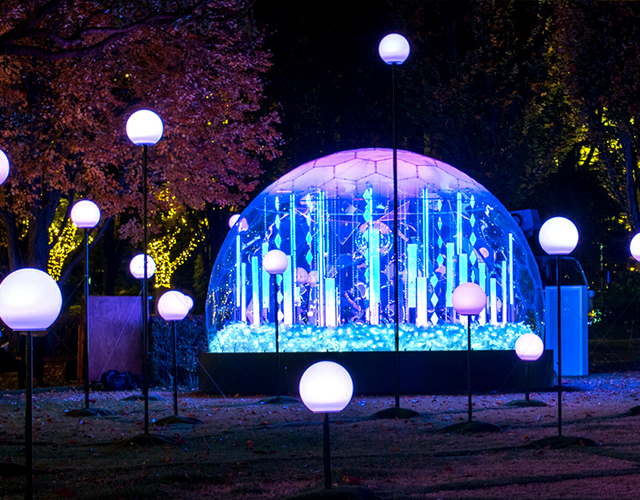 Finish it Off With a Stroll at Winter Illumination
There might not be snow or authentic European-style Christmas markets, but what it lacks, Tokyo makes up with its state-of-the-art light displays. Illuminations typically span between November to December, but they can run as long as February. Here, we've highlighted Tokyo's best winter illuminations — perfect for a romantic stroll or fun meetups with friends. 
Tokyo Midtown Christmas 
Tokyo's Midtown vibrant illuminations are known for their digitally controlled LEDs, space-like decoration and creative buildups to Christmas. This year, the venue returns with a three-meter tall snow globe and 150 golden-lit trees surrounding the walkway. Still, the highlight of this year is a mysterious Christmas tree erected in the Midtown Garden. Small, numbered gift boxes are added each day to help passersby count down the days left before Santa comes. 
Head to the area before December 12 to watch a special hourly soap bubble installation; white smoke-filled bubbles float around the space as if you're being inside the snow globe. Better yet, visit their outdoor skating rink for a full-fledged holiday agenda. 
When: Nov 18–Dec 25 | 5pm–11pm
Where: Tokyo Midtown 9-7-1 Akasaka, Minato-ku
tokyomidtown.com
Hibiya Magic Time Illumination
This year, Hibiya's winter illumination is as magical as it can get. The colors picked for the lights are shades of dawn; every tree has a somewhat different light to create a seamless gradation effect. This is to symbolize the start of a "wonderful tomorrow." As you soak in the stunning purple, pink and orange lights, you can stop by shops and nibble a few light bites at restaurants dotted along the road.
To get a full view of Tokyo from up high, go to the Park View Garden on the sixth floor of Tokyo Midtown Hibiya. There, a lit-up garden and serene pool of LED buds await. The Hibiya Step Plaza will also be adorned with Christmas trees. 
When: Nov 18–Feb 14 | 5pm–11pm
Where: Tokyo Midtown Hibiya, 1-1-2 Yurakucho, Chiyoda-ku
www.hibiya.tokyo-midtown.com/jp
Harry Potter Winter Illumination
The wizarding world of Harry Potter lands on Marunouchi in partnership with Warner Bros Entertainment. During the period, you'll find Harry Potter and Fantastic Beasts-inspired Christmas decorations, including a mini tree at Marunouchi Bric Square that rekindles the story of Harry's acceptance to Hogwarts. 
On the same venue, you'll find Tokyo's largest "tree" that proudly stands about 30 meters tall — although it is technically a grand illumination. Instead of thick green foliage, there hung lit-up banners of the four Hogwarts houses and 3D hologram displays. In the evening, expect an owl flying in and carrying a gift. 
When: Until Feb 20 | 3pm–11pm
Where: Marunouchi Naka-dori, 2 Marunouchi, Chiyoda-ku
tokyotorch.mec.co.jp
Check out our top 10 Winter Illuminations spots in Tokyo for the complete guide.

Visit an Art Gallery
Hiromart Gallery: Winter Show
Hiromart Gallery is known for bringing emerging domestic and international artists. Focusing on contemporary artworks, the place hosts both solo and group shows. Robin Fry, Japanese artists Sachie Kashima and Masanobu Sakakibara return from their previous exhibitions for the gallery's annual exhibition, Winter Show. 
Date: December 1–19 | January 12–23, 2022
Where: 1-30-7 Sekiguchi, Bunkyo-ku 
Queen 50th Anniversary Exhibition: Don't Stop Me Now
Celebrating the 50th anniversary of Queen, a band that is synonymous with the rock music genre, the Seibu Shibuya Movida Hall will hold a special exhibition called "Queen 50th Anniversary Exhibition – DON'T STOP ME NOW-." From their first debut to the iconic, soul-baring Live Aid concert, major milestones and iconic venues are recreated and shown through various photos, videos and documents. At the venue, a multi-screen theater will project live images to seemingly transport visitors to the venue on the site. 
Date: Until February 13, 2022
Where: Seibu Shibuya Movida Hall, 21-1 Udagawa-cho, Shibuya-ku
Jasper Johns: Eyes in the Persistence of Form
Between the East Coast and Saint Martin lies Jasper John's muse: the storm. He takes inspiration from the eye of humans and hurricanes. There is a wild feel to his paintings, a sense of raging freedom of his prints that span from the 1990s to the early 2000s. Altogether, his works evoke "seeing and seasonality", allowing anyone to translate them through a literal and metaphorical lens. 
Date: Until December 18
Where: Fergus McCaffrey Tokyo, 3-5-9 Kita-Aoyama, Minato-ku
Another Energy: Power to Continue Challenging – 16 Women Artists from around the World
This exhibition is a collection of 16 female artists' artworks, where the artists are all in their 70s or older from geographical locations all around the world, with diverse backgrounds. What unites all the female artists is thought to be the energy that continues to drive them to pursue their dreams and styles regardless of environment and times.
This exhibition showcases a wide variety of artworks from paintings to videos to performances and many more, totaling up to 130 works.
Date: Until January 16, 2022
Where: Roppongi Hills Mori Tower, 6-10-1 Roppongi, Minato-ku
60th Anniversary Sanrio Exhibition The Beginning of Kawaii
This exhibition features the history of Sanrio, appreciating the 60 years of its history, reflecting on what Sanrio has brought to society globally. It looks at the "Kawaii" culture Sanrio has created and how Sanrio has utilized that aspect to its own, recreating their own concept of what "Kawaii" is.
You can see the evolution of Sanrio's designs, collaborations with Japanese artists, the world-renowned Lady Gaga, the process of recreating Hello Kitty's dress, and many more. 
At the end of the exhibition, don't forget to check out the "Museum Café & Restaurant THE SUN & THE MOON" for their collaboration with Sanrio Exhibition for cute menus.
Date: Until January 10
Where: 6-10-1 Roppongi, Minato-ku