Back to blog
Event: Grand Sumo Tournament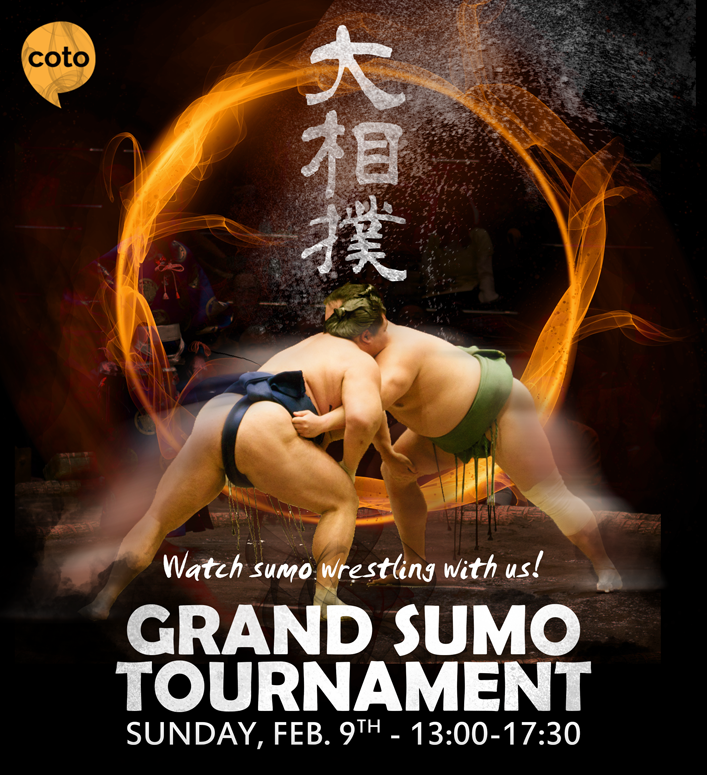 Have you seen a sumo tournament before?
Coto has reserved tickets for a special tournament that takes place only once a year for one day in February! If you have never enjoyed a sumo game before, do not miss this great chance to discover and enjoy watching this Japanese sport.
We have a limited number of tickets for this very popular event and booking will be close when all the tickets are sold. Reserve soon!
-Date: Sunday, February 9, 2020
-Time: 13:00 – 17:30
-Meeting place : 13:00, in front of the entrance of Ryōgoku Kokugikan (5 min from Ryōgoku station)
-Fee: 3500yen chair seat B (get up to 4 tickets per pax).
-Number of people: max 90 people
※Children over 4 years of age need to have a ticket.
※Children 3 years and under are free. However they cannot occupy a seat.
-Learn about our past sumo tournament event: http://www.grandsumo.jp/
*If you would like to cancel your reservation, please let us know by Feb. 5th.
*Full charge for cancellation notices from 6th onwards.
event
Grand Sumo Tournament

Coto has reserved tickets for a special tournament that takes place only once a year for one day in February! If you have never enjoyed a sumo game before, do not miss this great chance to discover and enjoy watching this Japanese sport.

Number of Participants: 90
※Children 3 years and under are free. However they cannot occupy a seat.

We have a limited number of tickets for this very popular event and booking will be close when all the tickets are sold. Reserve soon! Learn more about the event from Event: Grand Sumo Tournament

Dates

Date: Sunday, February 9 Time: 13:00 – 17:30

Venue

Meeting place : 13:00, in front of the entrance of Ryōgoku Kokugikan (5 min from Ryōgoku station)

Price

Price: 3,500 yen (max 4 tickets per pax)

Sign up at coubic.com

or email info@cotoclub.com

---