Back to blog
Top 10 Coworking Spaces in Tokyo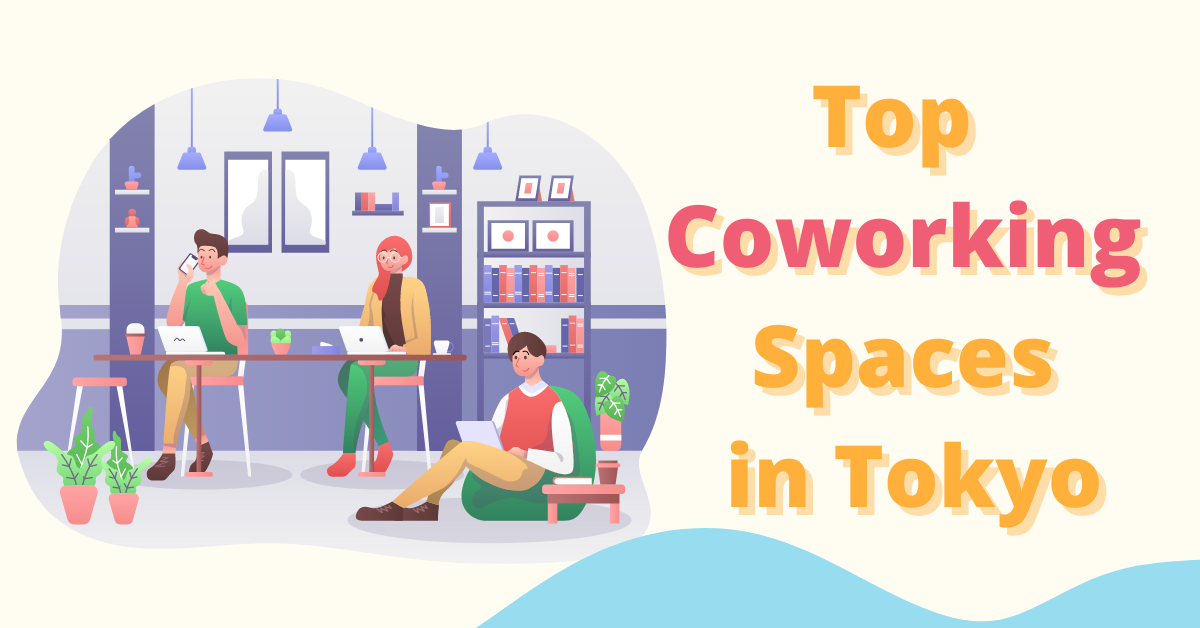 As the popularity of remote working increases, so are coworking spaces in Tokyo. It just so happends that there are other cafes other than cool-concept local Starbucks or Tullys to work from. However, they can often be too distracting to be considered a professional environment.
Sure, they offer basic (and modern) amenities such as plugs and free WiFi, but between rush coffee hour and lines of customers waiting for their cold brew, is it really an ideal place to work?
Now, many coworking spaces in Tokyo offer additional perks such as food and beverages and locker rentals.
In this article, we have compiled a list of top 10 coworking spaces found in Tokyo for entrepreneurs and emerging startups. Fret not about not making the most out of your monthly plans as they offer you a table with rates as low as per hour! Prepare to be extra focused and productive at these ideal work locations.
Yahoo Lodge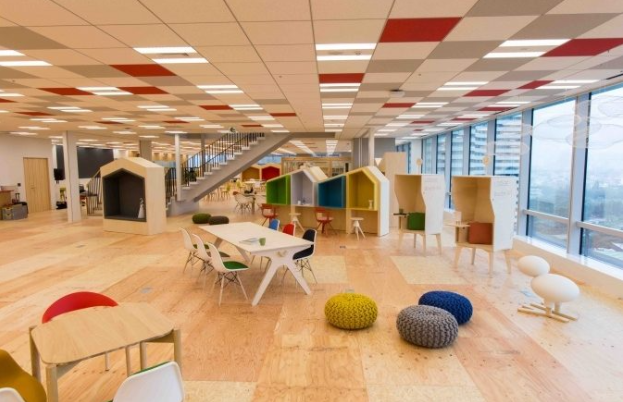 Located in Nagatacho, Yahoo Lodge is one of the largest and most affordable coworking spaces in Tokyo. The place hosts up to 250 people at once, with entry being completely free of charge. All you have to do is present any official ID for registration before entering.
With modern furniture and colofrful hues incorporated, you'll find the coworking space airy and perfect for destressing. There's the main coworking area with communal table and cushions.
Concentrate better when you're alone? Seating options are available for both individuals and groups. There are private booths that partly seperate you from the crowd.
Free amenities such as WiFi, outlets and extension cords, whiteboards and books are all available. There's a fully equipped kitchen when you just need a pick-me-up instant coffee. When you're looking for something more than a light bite, there's a cafeteria offering lunch sets and, yes, daily buffers.
If not, feel free to grab some food nearby from nearby konbini like Family Mart, as outside food is allowed into the co-working space.
Please note that only payment by IC card is accepted.
Opening hours: Monday to Sunday | 9:00-21:00
Location: 18F Tokyo Garden Terrace, 1-2 Kioicho, Chiyoda-ku
Find out more
Basis Point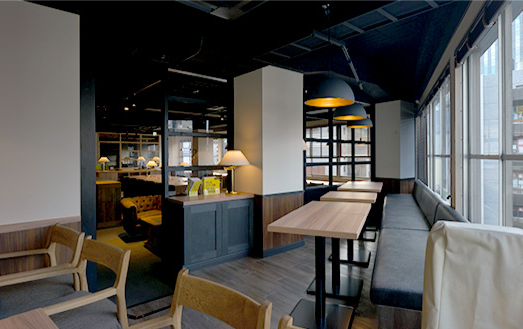 Located in the Jimbocho area (only a few minutes away from the main station), Basis Point is perfect for a quick work stop at Tokyo's little book town.  Prices start as low as ¥220 for a 30-minute session.
It is perfect for those who need to complete a short powerpoint or send a few emails before they get going with their day. Of course, they offer daily, weekday, all-day or holiday plans, depending on your needs.
Here at Basis Point, there are multiple types of seating areas. There are semi-private room seats, also known as BOX seats, that allow you to work in a cozy personal space to focus on your tasks. Should you be looking to host a meeting or seminar they also have conference rooms that can accommodate 8-10 people at once. The coworking space also offers laptop rentals, chargers and a drink bar.
Opening hours: Monday to Friday | 8:00-22:00 (Saturday, Sunday and Public Holidays: 10:00-22:00) | Closed on Year end and New Year's Day
Location: 6F Kurosawa Building, 1-4-6 Kanda Jimbocho, Chiyoda-ku
Find out more
Digima Base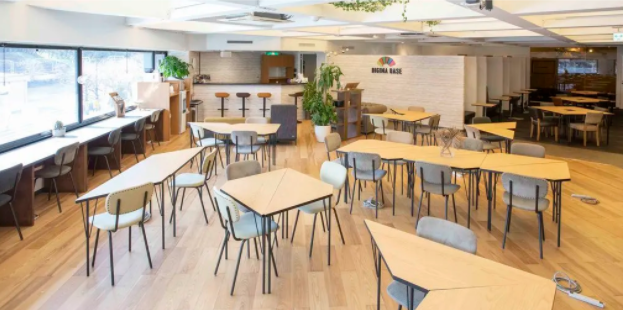 Digima Base is known to attract overseas business workers. Just a two-minute walk away from Ichigaya Station, the coworking space has a large, open-aired floor plan that can host up to 100 people.
There are two types of spaces available: an open space lounge to interact (and possibly network) with others and a more private space for those who want to focus on their work or discuss private details.
They charge a fee of ¥1000 for 2-hoursusage, and an additional ¥1000 for 3 hours and above. You can stay for a whole day (only for weekdays from 10am-7pm). Amenities in the seminar space such as small projectors, speakers and monitors all have free rental.
Opening hours: Monday to Friday 9:00-21:00, Saturday to Sunday 9:00-18:00
Location: 3F DS Ichigaya Building, 2-1 Ichigayahachiman, Shinjuku-ku
Find out more
HAPON Shinjuku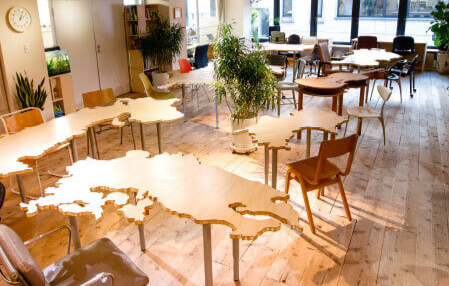 Hapon is a wordplay, derived from "Japan" and "Hap on", which means luck and fortune. The interior boasts Japan-themed furniture, making the space welcoming for regulars and new visitors. One of the many popular coworking spaces in Tokyo, Hapon is located 3 minutes away from Shinjuku-Nishiguchi Station.
They offer multiple pricing options for passers-bys who only need a workspace for a few hours. Fee starts at ¥1000 for 2 hours and goes up to ¥2500 for the whole day. They also offer bundle coupon tickets, starting at ¥10,000 for 5 tickets, where one ticket is valid for a day in the open area. Other plans offered are weekly and monthly membership for the different work stations, such as booth member or open member. Multiple amenities such as a nap room, printer, personal lockers and books are available.
Opening hours: Monday to Friday 10:00-19:00 | Saturday 11:00-18:00
Location: 5F Musashi Building, 7-4-4 Nishi Shinjuku, Shinjuku-ku
Find out more
The Hive Jinnan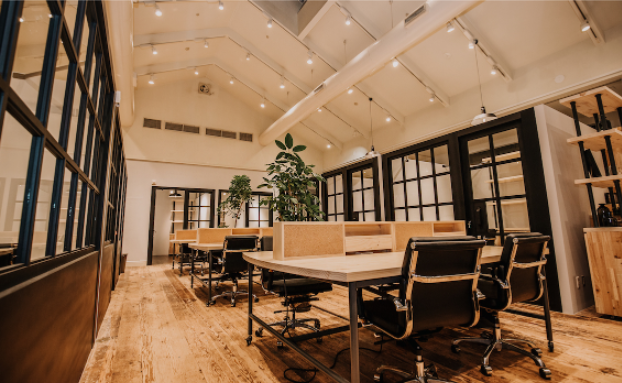 With multiple locations available worldwide, the Hive Jinnan is all about providing a cozy working space right in the heart of Shibuya, Tokyo. Located six minutes away from Shibuya Metro Station, you can enjoy other perks like relaxing in their cafe on the first floor. If you belong in the categories of young entrepreneurs and startup businesses, this is the place for you.
Aside from offering private office and dedicated desk memberships, they also have flexible membership. Starting at ¥2200 for a one-day pass, you'll have access to free complimentary tea. Besides the cafe, they also have phone booths, printers and mailbox lockers — all for your business needs.
The Hive Jinnan is known for bridging communities in Asia, with Tokyo being no different. Visitors and entrepreneurs are encouraged to join their community. Offering networking services, the team regularly hosts brunches, wine tastings. You can meat industry leaders and walk through their journey of success.
Opening hours: Monday to Friday | 8am-6pm
Location: 1-6-5 Jinnan Shibuya-ku, Tokyo
Find out more
Spaces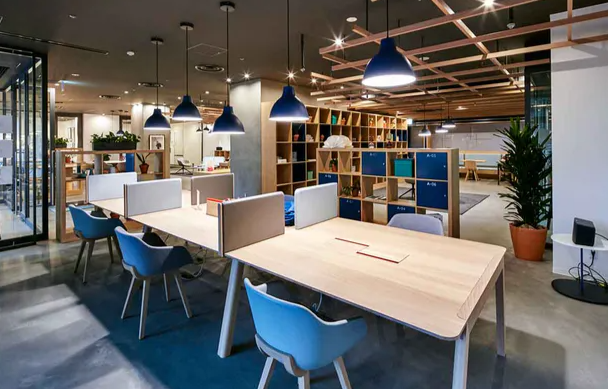 Spaces has five locations scatered around Tokyo. All of the essential utilities are taken care of for a worry-free working environment. There are modern amenities, fast WiFi and on-demand meeting rooms. Prices vary across the different locations, but if you are in the business district in the center of Tokyo, feel free to check out Spaces at Otemachi. It is one of their more affordably priced locations and is easily accessible by for small businesses.
This location includes 11 meeting rooms, 19 dedicated desks, 163 private offices, and an on-site restaurants (check out our reccomendations for vegan restaurants in Tokyo). You never worry about not having enough space or go hungry here.  If you need a space to briefly host a short meeting, prices here start at ¥6550 per hour. They also have dedicated plans for office spaces, co-working memberships, dedicated desks and also a virtual office available.
Plan on working alone? Your can rent private desk in a shared office with a flexible contract.
Opening hours: Monday to Friday 09:00-23:00, Saturday to Sunday 10:00-18:00
Location: 1-3F Otemachi Building, 1-6-1 Otemachi, Chiyoda-ku (other locations available)
Find out more
Shimbashi Key Station Office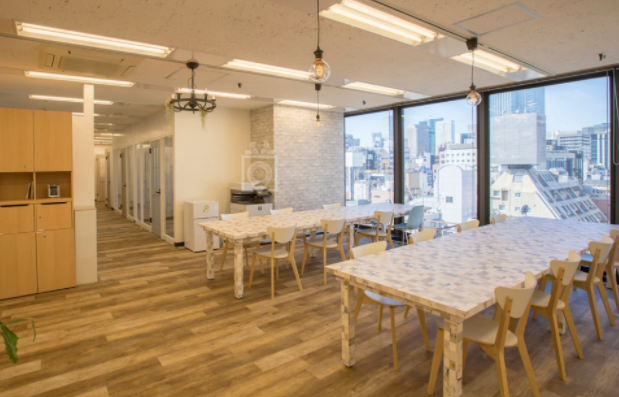 Less than a minute away from Shimbashi Station, the coworking space is a very accessible and convenient. Should you need to destress, there's ping pong table to beat your co-worker on a one-on-one match. The place is also close to restaurants and retail shopping, should you ever need to destress halfway through your work. From communal tables to private booths, you can find many different seating plans.
You get access to a meeting room that can fit up to 10 people for only ¥1500 an hour (¥1200 for members). Their daily pass costs ¥2000. Other monthly plans for the exclusive room, fixed seat, member and virtual use are also available. Amenities such as personal lockers, Skype room.
Opening hours: Monday to Friday 10:00-18:00 (24 hours for members)
Location: 9F New Shimbashi Building, 2-16-1 Shinbashi, Minato-ku
Find out more
Regus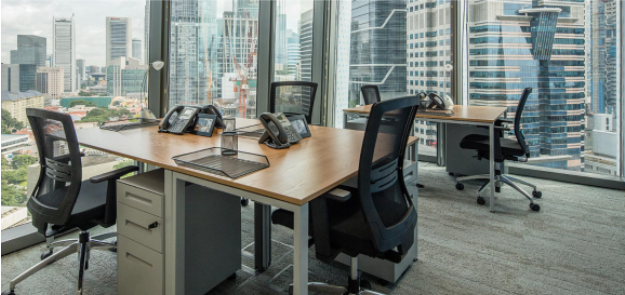 For Tokyo residents whose job requires a lot of in-city traveling, Regus is for you. They allow you to move your office desk free of charge from one location to another. Located all around Japan with 67 locations in Tokyo alone, Regus is the kind of coworking space in Tokyo that comes for you. Aside from co-working desks, they also offer meeting rooms and customized office spaces.
They offer three different types of membership plans, namely lounge, office and coworking. You are also allowed to rent their space by the hour or day. Prices of rental vary depending on the location and additional facilities you may want to have.
Opening hours: Monday to Sunday | 9:00-21:00
Location: 67 locations available
Find out more
Samurais 66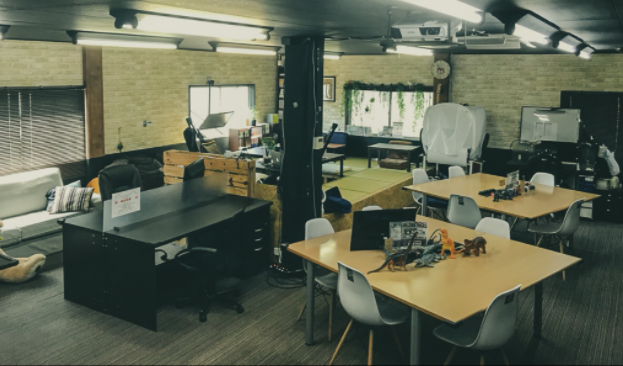 If you are around the area, consider a visit to Samurais 66. Located four minutes away from Senku Ohashi, this coworking space offers practical amenities like a well-equipped kitchen with refrigerator, microwave and beverages.
Besides that, they also have other fun amenities. You can find dart boards, training weights and even rental bicycles. It is highly recommended for people who live by "work hard and play hard" motto.
Prices start at ¥500 for two hours, which is limited to four hours per day. Top up to ¥1500 to enjoy access for a whole day, or sign up for their membership plans for half-time or full-time membership. They have seating arrangements to cater to groups and individuals.
Opening hours: Monday to Saturday 10:00-20:00, Sundays are open for members.
Location: 3F Nishimura Building, 66 Senjuhashidocho, Adachi-ku
Find out more
Co-Edo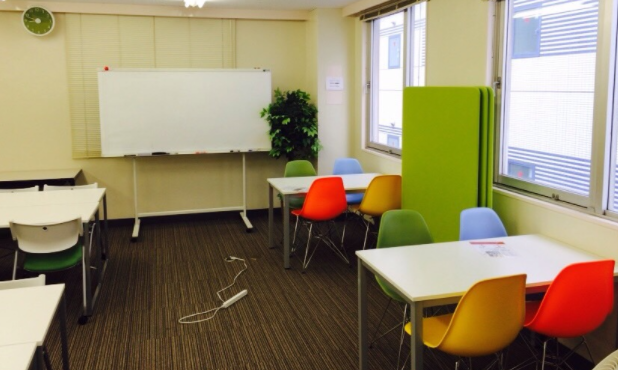 A popular coworking space in Tokyo among IT engineers and designers, Co-Edo is a two minute walk away from Kayabacho Station. It is suitable for people who want to network inside the technology industry, as this is the space populated by web developers. Free beverages like water and coffee are available. Besides being weelchair-friendly, the place have amenities such as scanners, monitors and a 3D printer.
They have a two-hour plan at ¥550 for visitors who just want to drop by. The fee is ¥1000 for people who want to stay all day. You can select plans, ranging from monthly, weekdays, weekends, daytime and 24-hour plans. They are also open on public holidays, so don't worry about not having a place to go should you require a work space.
Opening hours: Monday to Friday | 10:00-21:00 (Saturday, Sunday and Public Holidays 10:00-18:00)
Location: 5F PA Building, 1-3-4 Shinkawa, Chuo-ku
Find out more