Back to blog
2022 Part-Time Japanese Course for Beginners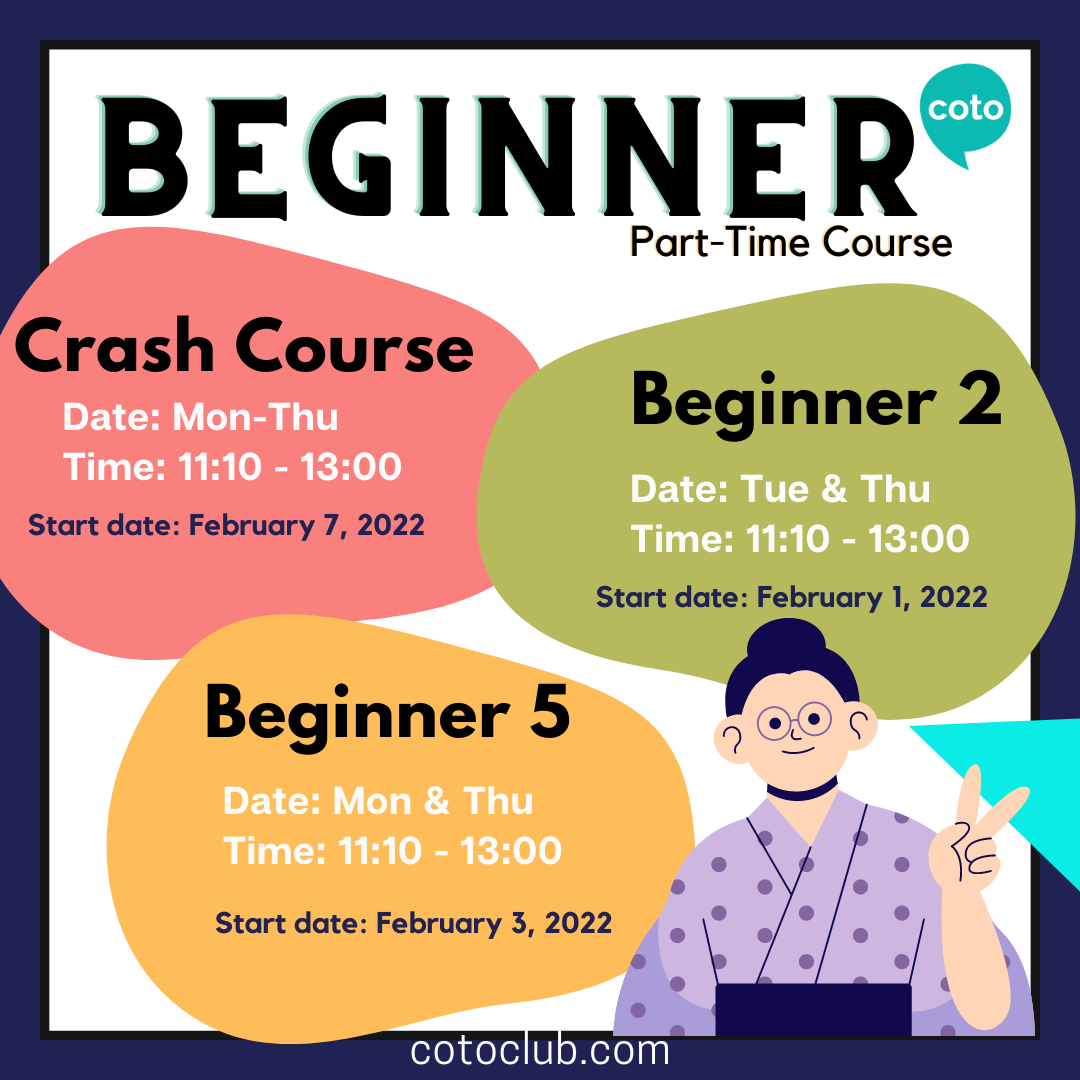 Coto Japanese Club offers is offering new part-time beginner Japanese courses for 2022. Beginning in January and February, the course allows students to learn Japanese once or twice a week at their convenient time slot. This is a great option for individuals who cannot commit to a full-time Japanese intensive course and want to study in a fun learning group.
You will study in a class of up to eight students in a fun and casual atmosphere. The course will focus on helping students achieve natural fluency in Japanese speaking ability.
To sign up and for any questions, email us at info@cotoclub.com or visit our contact page. We offer a free interview and level check, so get in touch with us and let us know how we can help you achieve your study goals.
Who is The Part-time Japanese Course Perfect For?
Our part-time Japanese course is a great option for residents or working professionals in Azabujuban (or surrounding Tokyo areas) who are looking to gain confidence in their Japanese conversational skills. It's a great way to fit learning Japanese if you are too busy, perhaps due to work or other commitments.
It's also a perfect solution for students who want to learn Japanese more casually and make new friends. Because you'll be studying in a small group (the average number of students for one class is 3–6), you get to stay engaged and motivated.
What's The Benefit of Joining a Part-time Japanese Course?
More time to pursue other activities
Joining a part-time class is not as time-consuming compared to a full-time class. You will still have the time to go about doing your daily activities while making solid progress towards your Japanese language target. It's perfect for students or residents in Tokyo who have other commitments.
Form new connections and make new friends
A lot of our students and professional teachers become friends, even after the course ends. This is because we want to be your study partner, rather than your Japanese instructor. We're all about community learning; students will meet new friends and bond over similar passions and interests.
One session of our part-time courses lasts for 100 minutes with a 10-minute coffee break.
Crash Course for Beginner
Course date: Monday – Thursday (4 days/week)
Time: 11:10-13:00
Start date: February 7, 2022
Topic Conversation for Beginners
All the lessons in this course are independent, so you can join any session and at any time you want. Each 'session', we will go through a specific topic (for example, topics on 'food' or 'shopping), and our teachers will moderate a fun conversation where you are free to discuss anything about it.
The point of this course is to help you gain confidence and be comfortable in speaking Japanese. We will always encourage you to speak up, not be afraid of "mistakes" and have fun. No textbooks — we want you to converse freely.
Day: Friday
Time: 9:10–11:00
Take a look at the content schedule. Each session you attend will cover one topic. If you have any questions, you can contact us at info@cotoclub.com.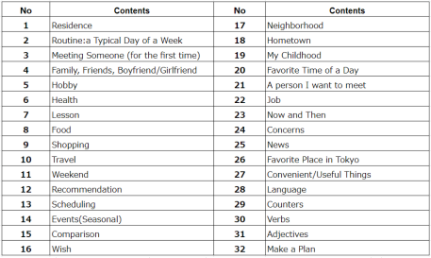 Course Fees for Part-time Beginner Course
8 sessions: ¥44,800 (valid for 3 months)
16 sessions: ¥86,400 (valid for 8 months)
32 sessions: ¥166,400 (valid for 12 months)
48 sessions: ¥240,000 (valid for 16 months)
We want to hear more from you about your learning goal, availability and learning preference. Contact us anytime at info@cotoclub.com and our friendly staff will shortly get back to you.
Not the course you're looking for? We also offer private Japanese lessons for professionals who have specific learning goals. With our attentive Coto instructor, you can study in a bespoke learning environment with a personalized and customizable lesson plan.